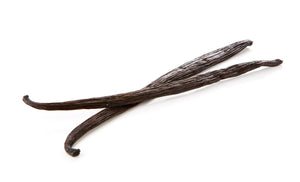 Did you know Vanilla is the fruit of an orchid? The vanilla variety comes from the orchid's name with the two most popular types of vanilla beans in the world being Planifolia Vanilla and Tahitensis Vanilla. 
These vanilla bean pods are the planifolia kind, sometimes referred to as Bourbon vanilla beans. They are long and slender with a distinctive aroma, described as rich, fruity, sweet and buttery with hints of caramel. They have a thick and oily skin and an abundance of seeds.
Average bean length: 15-18cm
Average weight per bean: 4 -6g
Sold individually.