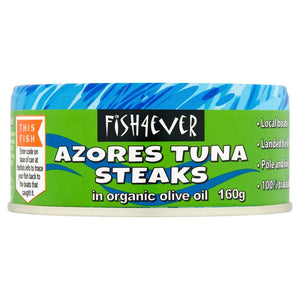 Say yes to GOOD tuna! 100% line and pole fished in the Azores, Portugal, Fish4Ever skipjack tuna sets the highest standard in quality and sustainability. Working only from whole fish, landed fresh and fished locally, this is tuna you can trust.
Sustainable, Pole and Line Caught, Australia's # 1 Sustainable Tinned Tuna as rated by Greenpeace.
Ingredients: Skipjack tuna chunks 65%, organic extra virgin organic olive oil 33.5%,  salt.