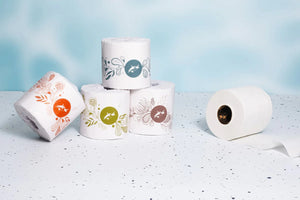 Do your buns, and the planet, a favour. This eco toilet paper is made from 100% recycled paper - and not just the toilet paper! The core, wrapper and carton are also made entirely from recycled content.
An eco toilet paper without compromising on strength or softness...Pure Planet will get the seal of approval from the whole family!
Rolls are extra length and double ply and wrapped in a delicate tissue paper with gorgeous aquatic designs. We just love these!
2-ply, plastic-free toilet paper
Extra length roll
500 sheets per roll
Made from 100% recycled content (Core, Wrapper, Toilet Paper & Carton)