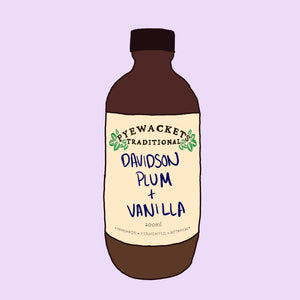 Tangy, tart with a punch of bright red colour, we added soft, sweet vanilla to this seasonal rarity. The resulting flavour is reminiscent of a traditional cream soda but with a native Australian twist. 
Davidson plum species are native to Northern NSW and QLD.  Our Davidson Plum shrub is made from mixed species all harvested at peak season in the rainforests of Terania Creek NSW. 

A comparative study done by the RIRDC (Rural Industries Research and Development Corporation) of Davidson plum vs blueberries found that: 
the antioxidant capacity of davidson plum was 2.7 times higher than that of blueberries 

a lutein content twice that of Blueberries

an Anthocyanin content greater than Blueberries

a similar folate level

a similar Zn (zinc) level

higher levels of the minerals Mg (magnesium), Ca (calcium), P (phosphorus), K (potassium), Mn (manganese) and Cu (copper)

Na (sodium) levels 3.6 times lower
She's a superfood, there's no doubt. 
Sweet, earthy and full of tang, shrubs are an excellent source of vitamins, probiotics, support your digestion and are naturally low in sugar.
Shrub is taken from the Arabic word "sharab" or "drink". When they were brought to 15th century England, they were adapted to medicinal tonics in early apothecaries. They were also popular in colonial America where they became additions to cocktails and in the prohibition era they were used in sodas, making elegant and delicious non alcoholic drinks to enjoy in bars.
Pyewacket's Traditional make their shrubs the traditional way, by preserving their nutritional and probiotic quality, keeping them raw and unpasteurised. While their acidic nature makes them stable for shorter periods - we suggest you pop them in the fridge when they arrive to extend shelf life and preserve flavour.