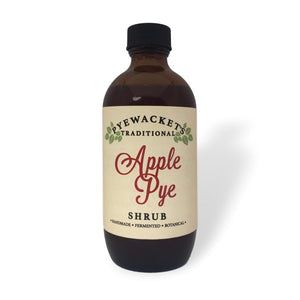 Crisp cold-pressed green apples fermented in warming aromatics. Cooling on the windowsill, the gingham curtains fanning out the sweet smell of cinnamon, nutmeg, ginger, allspice and clove. Drink hot or cold. Straight or spiked. Rum, vodka or whisky accompany best.

Sweet, earthy and full of tang, shrubs are an excellent source of vitamins, probiotics, support your digestion and are naturally low in sugar.
Shrub is taken from the Arabic word "sharab" or "drink". When they were brought to 15th century England, they were adapted to medicinal tonics in early apothecaries. They were also popular in colonial America where they became additions to cocktails and in the prohibition era they were used in sodas, making elegant and delicious non alcoholic drinks to enjoy in bars.
Pyewacket's Traditional make their shrubs the traditional way, by preserving their nutritional and probiotic quality, keeping them raw and unpasteurised. While their acidic nature makes them stable for shorter periods - we suggest you pop them in the fridge when they arrive to extend shelf life and preserve flavour.