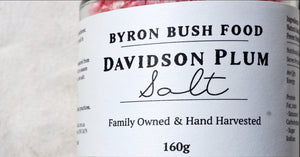 Davidson Plum (Ooray) salt, a combination of two beautiful ingredients. The Davidson Plum is grown and hand harvested on Byron Bush Food's Bundjalung land, and combined with Australian flake salt - produced along the Great Ocean Road in Victoria. Both ingredients are chemical free and made to the highest quality. 
We love using this Ooray Salt as a seasoning for seafood & meats, and our favourite is as a rim salt for Margaritas and other cocktails.  

Ingredients: 100% Chemical & Spray Free Davidson Plum (Ooray) freeze dried powder & Australian flake Salt.