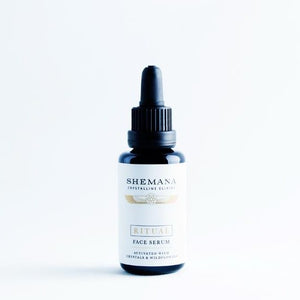 Enriched with a Herbal Solar Infusion! Our legendary Face Serum evolved. We gathered the best skin loving botanicals, infused them in Almond Oil and placed them in sacred geometric pattern surrounded by crystals while they were activated by the sun and the moon. Enhancing this serum to the next level.
A rich elixir of nourishing oils and restorative superfood extracts selected for their high content of antioxidants, omegas, vitamins and minerals. Infused with a vibrational remedy of Crystal and Wildflower Essences to purify, harmonise and activate the body, mind and spirit.
30ml Miron violet glass bottle and glass & rubber pipette.
CRYSTALLINE THERAPY

Ancient Alchemy essence of Pearl, Iolite, Herkimer Diamond.
Designed to assist with: 
HARMONY
PURIFICATION
NOURISHMENT
DIVINE BEAUTY
REGENERATION
REVITALISATION
DIRECTIONS
Use on its own or add a few drops with your favourite daily moisturiser. Performs beautifully as a night serum and a perfect primer under make-up.
The Essential fatty acids assist collagen production and increase skin elasticity. Aids in hydration and encourages moisture retention & regeneration. Helps minimise signs of ageing by protecting against free radicals with multiple antioxidants. 
INGREDIENTS
Organic Camellia Oil*, Sweet  Almond Oil, Jojoba Oil, Pomegranate Oil, Watermelon Seed Oil, Kakadu Plum Extract, Vitamin E, SOLAR HERBAL INFUSION: Rose petals*,Lavender*Calendula*, Chamomile* ESSENTIAL OILS: Vanilla CO2, Rose Absolute, Lavender,CRYSTAL & WILDFLOWER ESSENCES: Pearl+, Iolite+, Herkimer Diamond+, Bush Fuchsia+.
*Certified Organic +Wildcrafted.
EXTERNAL USE ONLY