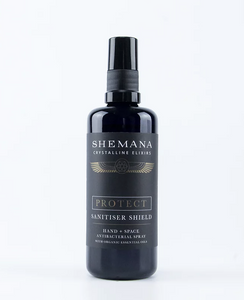 The plant derived Bio-ethanol is made from Australian sugarcane. It's highly effective properties kill 99.99% of bacteria. 
We have added a generous amount of Aloe Vera extract to keep your hands silky soft, helping to replenish them from the frequent washing and sanitising recommendations.
Scented with pure organic essential oils of Juniper Leaf & Berry, Lemon Myrtle, Blood Orange, Spearmint and Lavender.
Chosen for their antibacterial, antiseptic and antimicrobial properties, as well as the clear and calming effect on your thoughts and feelings. 
Black Tourmaline Crystal Essence shields from negative, dense or heavy energies. Fringed Violet Wildflower Essence maintains psychic protection and cleanses the energetic field.
100ml Miron violet glass bottle and fine mist spray.