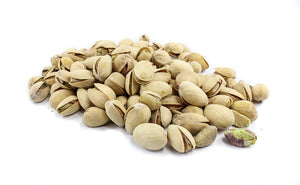 These 1st Grade pistachios were grown at 'The Food Forest', a 20 Ha certified organic Permaculture farm near Gawler on the sun-drenched Adelaide Plain in South Australia.
The trees at 'The Food Forest' sink their roots more than fourth feet through the alluvial soil of the old flood flats of the Gawler River which ensures regular crops while the long, hot dry summers produce intense flavours.
The nuts are dried and have not been bleached or salted. 
Pistachios are excellent source of vitamins A, B6, C and E, packed with healthy protein and high dietary fibre, and also very rich in minerals such as potassium, calcium, phosphorus and iron.
Gluten Free (but packed in a facility that handles wheat)
Product of Australia