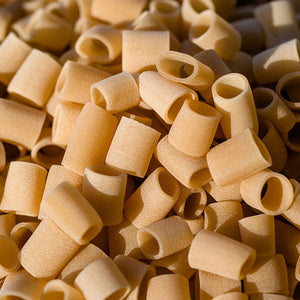 Australian made dried sourdough pasta made from Australian flour that is ASP certified sustainable.
Made from a blend of Sustainable Durum Wheat Flour and Sustainable Khorasan Flour with a sourdough starter added. The pasta is long-fermented which improves the digestibility and nutrient availability. Sourdough Pasta is nutrient dense and a good source of protein and dietary fibre.
It is slow dried over 16hrs and bronze extruded so pasta sauces will hold well. Its flavour could be described as creamy, nutty and subtle.  
With origins in the Fertile Crescent region of the Middle East, Khorasan is an ancient relative of durum wheat (a modern wheat staple) but with grains twice the size. Khorasan has it all, including diverse cook-ability, a rich taste and higher quantities of fibre, protein, vitamins and minerals compared to modern wheat varieties.
Plus, if like us and many of our customers, you're keen to reduce your footprint, then this pasta is for you - we receive this pasta in bulk and all supplier packaging is 100% home compostable. Wish we could say more of our suppliers made that extra effort! 
What does ASP Certified Sustainable mean?
ASP Certified Sustainable products are fully traceable products with no nasties added. All the products are tested to be residue free, GMO free, high quality and nutrient dense. Certified sustainable farmers manage their land in an environmentally friendly way, sequestering carbon, building diversity, enriching the soil and provide an overall nutritionally superior product for you.