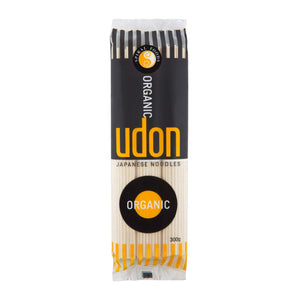 Udon noodles are white noodles made from wheat flour, water and salt. An udon noodle is typically four to six millimeters in width, making it the thickest of the Japanese noodles.
Traditionally, udon noodles are served cold with a dipping sauce during warmer months. During colder months, they're commonly used in soups and other hot dishes, such as stir fries.
Nutritionally speaking, udon noodles are not a high-calorie food, but they do contain a significant amount of carbohydrates as well as a significant amount of protein. They also contain important nutrients like iron, potassium, thiamine, niacin, riboflavin, phosphorus, zinc, copper, folate and magnesium.
Please note that this product is sold in bulk and not individually packaged as shown in image.
Ingredients
Organic wheat flour, sea salt, water
Nutritional Information
Per 50g
Per 100g
Energy
712kJ
1420kJ
Protein
4g
8g
Fat, Total
<1g
1.2g
-Saturated
0g
0g
Carbohydrates
36g
71.9g
-Sugars
<1g
<1g
Sodium
90mg after cooking
180mg after cooking