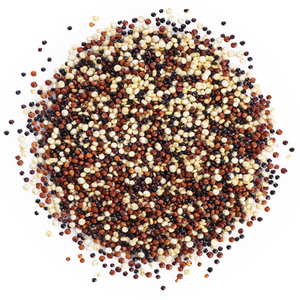 Organic tricolour quinoa is a balanced combination of white, black and red quinoa. Quinoa is a nutritious, versatile grain-like seed and is a great alternative to rice. 
Cooked quinoa seeds become fluffy and creamy, yet maintain a slight crunch. It has a delicate and subtle nutty flavour, versatile as a cereal/porridge, as a salad or as a substitute for rice or other grains.
With twice the protein content of rice or barley, quinoa is also a very good source of calcium, magnesium and manganese. It also contributes useful levels of several B vitamins, vitamin E and dietary fibre.