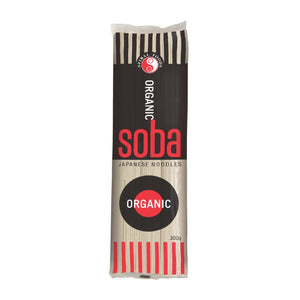 Soba noodles are a thin, light brown coloured noodle made from buckwheat and wheat flour. Buckwheat is rich in protein and minerals. Buckwheat contains as much vitamin B1 as brown rice and nearly twice the levels of B1 found in wheat. 
Soba noodles are rich in manganese, magnesium, phosphorus, niacin, zinc, iron, vitamin B6, folate and pantothenic acid.
Please note that this product is sold in bulk and not individually packaged as shown n image.
Ingredients
Organic wheat flour, organic buckwheat flour, sea salt, water
Nutritional Information
Per 50g
Per 100g
Energy
743kJ
1490kJ
Protein
5.9g
11.8g
Fat, Total
<1g
1.8g
-Saturated
0g
0g
Carbohydrates
35.1g
70.2g
-Sugars
<1g
<1g
Sodium
36mg after cooking
72mg after cooking