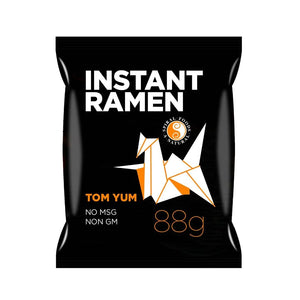 We are loving these quick to make ramen noodle soups - a go-to for a fast meal or snack! We also add fresh veggies, spring onion and herbs for an easy quick meal too. And the older kids love this one too! (it does pack a little heat so be mindful)
This Tom Yum ramen has a delicious Thai flavour with a Shoyu soup base. The Ramen is slow-dried (not fried) at a low temperature which gives a distinct quality in texture and taste. Spiral Instant Ramen uses no MSG or GMO ingredients
Ingredients:  
Noodle: Wheat flour, brown rice flour, sea salt.
Soup Powder: Sea salt, spices (Paprika, lemon grass, red pepper, garlic, white pepper, ginger, black pepper), beet sugar, lemon powder, yeast extract powder, onion, shoyu powder (Soybean, wheat, sea salt), citric acid, tapioca dextrin, dried green onion, tomato powder, sesame oil.
Nutritional Information:
Per Serve (450g)*
Per 100g
Energy
1192 kJ
265 kJ
Protein
11.7g
2.6g
Fat (Total)
2.2g
LESS THAN 1g
- Saturated
LESS THAN 1g
LESS THAN 1g
Carbohydrates
51.7g
11.5g
- Sugars
2.7g
LESS THAN 1g
Sodium
1242mg
276mg
*When made up according to the directions with the addition of 2 cups of water and consumed as a soup.