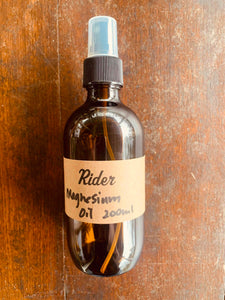 This high-grade magnesium oil spray is effective in soothing sore muscles, helping you unwind and relax and even get a restful nights sleep.
Applying Magnesium oil spray on the skin:
Using Magnesium Oil spray directly on the skin is the most common application of the mineral. It's best to apply after a shower, when the skin is clear of lotions or other oils. After spraying, magnesium oil should be thoroughly rubbed in and left to absorb for about 30 minutes. Depending on your preference, you can shower or wipe down to eliminate any residue or simply leave it on your skin. The first few times applying magnesium oil spray may result in some tingling, this sensation should dissipate the longer you use it and is quite normal.
Perfect for the bathroom, next to the bed, on your travels and in that gym bag.
Benefits of Magnesium Oil
Relieve arthritis and joint pain
Improve blood circulation
Reduce cramps and ease heavy legs
Ease back and neck pain
Boost strength and endurance
Help ease restless legs
Relieve stress and anxiety
Migraine and headache relief 
Reduce sleeplessness and insomnia
Sports performance and workout recovery
Skin care
Diabetes regulation
Note: For external use only. If skin irritation develops, discontinue use. Avoid contact with eyes.