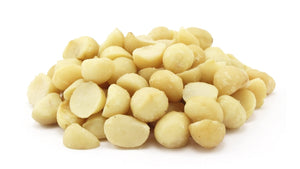 Sweet, buttery, creamy, luxurious and grown right here in the Northern Rivers!
Raw macadamias are in our opinion the 'king' of nuts - supremely delicious, versatile and healthy. How's this for a list of benefits:
powerful antioxidants to fight heart disease, diabetes, stroke and cognitive decline
cholesterol-free
prevents osteoporosis and reduces the severity of arthritis
protects against certain types of cancer
contains Palmitoleic acid and Omega-7 fatty acid for curbing the appetite and help burn fat faster, plus highly beneficial Omega-3 fatty acids
At least one Rider employee has raw macas as his top 'if I was marooned on a desert island' food. 
May contain traces of other tree nuts.