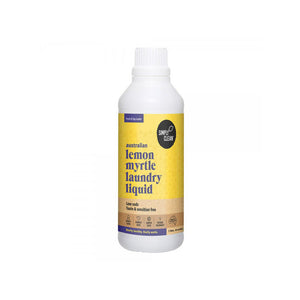 Lemon Myrtle Laundry Liquid, with pure lemon myrtle oil, tackles even the dirtiest wash 
Your Family's Health. This plant and mineral based laundry liquid is toxin free and sensitiser free and contains no artificial fragrances. Simply Clean Lemon Myrtle Laundry Liquid uses only pure oil, grown in the hills around the factory. And with absolutely no irritants, and no unnecessary ingredients, this liquid is so pure; just perfect even for sensitive skins. 
Your Environment. Our laundry liquid is phosphate free, enzyme free, palm oil free, contains no animal products and has not been tested on animals.
Your Home. Our Lemon Myrtle Laundry Liquid is excellent for all your family's clothes and leaves them smelling fresh with a hint of lemon myrtle. It has a low suds formula so it can be used in both Top and Front loaders and works in cold, warm and hot washes. Because we pack so much washing-goodness into our products, you get up to 40 washes per litre. That's really good for the environment and your pocket. 
Suitable for both top and front loaders
Works in cold, warm and hot washes
No artificial fragrances, just pure Lemon Myrtle oil
Up to 40 washes per litre
Kind to sensitive skin
Grey water safe and septic safe
Earth safe AND human friendly
Biodegradable
Cap measure included
Not tested on animals and no animal products
Palm oil free
Please note that this product is sold in 1L retail packs as well as in bulk, in 500ml increments for refilling retail packs or your own containers.
Ingredients
Pure Australian lemon myrtle oil; sodium carbonate (washing soda for cleaning); sodium citrate (water softener, prevents greying); sodium polyaspartate (highly biodegradable water softener & corrosion inhibitor); alkyl polyglucoside, sodium coco-sulfate & potassium cocoate (biodegradable plant derived surfactants for cleaning); sodium bicarbonate (dissolves grease & dirt and deodorises); citric acid (food grade); sodium chloride (table salt, colour protector and natural thickener); magnesium chloride & magnesium nitrate & methylchloroisothiazolinone & methylisothiazolinone (low dose preservative prevents growth of bacteria and mould in product); optical brightener (fully biodegradable, very low dose colour protector); water