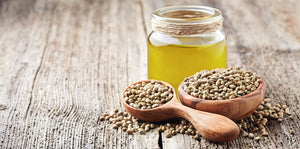 Certified organic Hemp Gold Seed Oil - from Hemp Foods Australia in Bangalow - is made from de-hulled hemp seeds and bursting with natural healing and nutritional properties. It's naturally high in omega-3 and omega-6 essential fatty acids, for healthy insides and healthy skin! 
It has a lighter, milder and more neutral flavour than regular hemp seed oil. This makes it easier to take on its own, or mix into your food without the flavour dominating and taking over! Hemp gold seed oil adds a delicious and healthy kick to smoothies, shakes, vegetables, pastas, salads and dressings. Use raw, or in very low heat (under 160 degrees Fahrenheit).
A recommended 20ml dose per day will get your daily dose of omegas – this is equivalent to approx. 1 metric tablespoon. This can be divided up throughout the day – for example, you can add a teaspoon on top of each meal. Some like to take a full serve in the morning on an empty stomach, to get the anti-inflammatory benefits of omega-3. Everybody is different, so Hemp Foods Australia recommend starting off slowly, taking ½ teaspoon and slowly increase from there up to 1 tablespoon per day. It is also an amazing highly moisturising oil to apply topically to your skin to assist with ailments such as eczema, psoriasis and other inflammatory skin conditions. Apply after a shower or bath, while the skin is still damp, as this helps it to absorb more quickly.