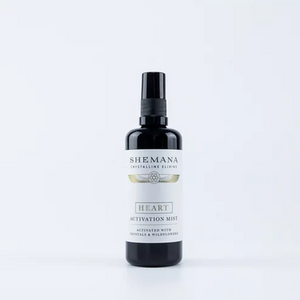 Vanilla and Rose essential oils infused with an ancient alchemy sequence that allows opening, healing and activation of the true heart.
Ancient alchemy essence of:
Rose Quartz, Kunzite, Pink Tourmaline.

Designed to assist with:
SELF LOVE
STABILITY
NURTURING
FORGIVENESS
EMOTIONAL HEALING
UNCONDITIONAL LOVE
Spray around self and space for heartfelt joy. Also a perfect remedy for a heartbreak or challenging times.
Pure Water, Jojoba Oil
ESSENTIAL OILS: Vanilla Absolute, Rose Absolute, Patchouli*, Lavender*, Polysorbate 20, Phenoxyethanol
CRYSTAL & WILDFLOWER ESSENCE: Rose Quartz+, Kunzite+, Pink Tourmaline+, Sydney Rose+, Little Flannel Flower+, Fringed Violet+, Red Suva Frangipani+.
 *Certified Organic, +Wildcrafted. FOR EXTERNAL USE ONLY
100ml Miron violet glass bottle and Mist spray