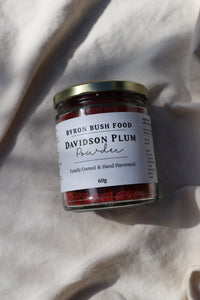 Davidson Plum, also known as Ooray, is the queen of the rainforest believed to build your immune system, help your skin glow and keep your brain sharp. She contains high levels of antioxidants, vitamin E, zinc, magnesium and folate. 
Food is medicine and this freeze dried powder is full of nutrition and flavour. This Australian Native food is a wonderful hero ingredient, something to add to your food daily with a beautiful vibrant colour and tart tangy flavour. 
We use it on our muesli, porridge, in our water bottles, with hot water as tea, sprinkled on fish, calamari, slow cooked meat and it makes the perfect decoration on your favourite desserts!
Ingredients: 100% Chemical & Spray Free Davidson Plums.