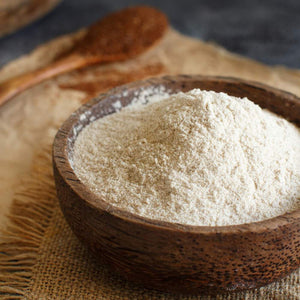 Australian Teff Flour is the perfect choice for anyone looking for a nutritious and sustainable gluten-free flour made from the highest quality ingredients.

This flour is made from Ivory Teff grain that's sustainably grown in Australia without harmful chemicals or pesticides, ensuring it's good for both you and the environment.

One of the best features of our Australian Teff Flour is that it's gluten-free, making it an excellent alternative for those with gluten sensitivities or celiac disease. It's also high in fibre, which can promote digestive health and keep you feeling full and satisfied for longer.
Origin: Australia
| | |
| --- | --- |
|  Nutritional Information |  Av. Per 100g/100ml |
|  Potassium (mg) |  470 |
|  Maganese (mg) |  5.6 |
|  Magnesium (mg) |  210 |
|  Iron (mg) |  8 |
|  Zinc (mg) |  5.5 |