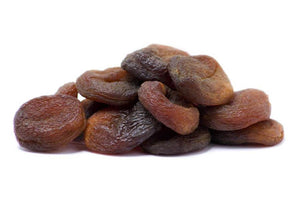 Naturally sweet and delicious, our organic apricots are darker in colour as they have been dried naturally without the use of sulphur dioxide (E220 or 220) that preserves their bright orange colour. Containing nutrients such as Vitamin A that promotes healthy vision, these dried apricots are a super tasty snack and great for school lunchboxes. Chop them up and add to muesli or baked goods.

No GMO. No added sulphur, preservatives, oils or sweeteners.
Storage: As this is a preservative-free, raw product, higher temperatures can cause the moisture and the sugar in the fruit to react (starting the fermentation process) so we recommend refrigeration.