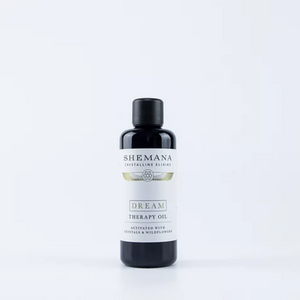 Organics of Camellia and Fractionated Coconut make this botanical oil lightweight and silky, blended with Sandalwood and Lavender essential oils, and activated with Crystal and Wildflower Essences to activate awareness and welcome surrender. 
Ancient alchemy essence of:
Jade, Apophyllite, Black Onyx.

Designed to assist with:
AWARENESS
SURRENDER
DREAMWORK
WHOLENESS
RELAXED STATE
PEACEFUL SLEEP

Apply as a night ritual on body or in bath to enhance Dreamwork, its absorbent texture won't harm the sheets. Apply anytime to the body for the Crystalline therapy to assist with realisation of your hopes & dreams.
100ml Miron violet glass bottle and pump.
Ingredients: Camellia Oil* Fractitionated Coconut Oil, Vitamin E, Jojoba Oil.
ESSENTIAL OILS: Sandalwood, Vanilla Absolute, Rose Absolute, Lavender*, Cedarwood, Bergamot
CRYSTAL & WILDFLOWER ESSENCE: Jade+, Apophyllite+, Black Onyx+, Slender Rice Flower+.
 
*Certified Organic, + Wildcrafted
FOR EXTERNAL USE ONLY