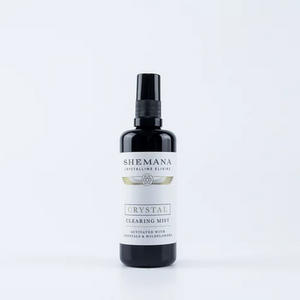 Crystal Clearing Mist welcomes an alignment of energy and a clarity of mind and body, complete balance of the self. Great "smokeless smudge" alternative to White Sage or Palo Santo.
Ancient alchemy essence of:
 Boji Stone, Kyanite, Malachite.

Designed to assist with:
 CLARITY
 BALANCE
 CLEARING
 ALIGNMENT
 POSITIVITY
 PROTECTION
Spray around self & space with focus & intention.
Use as a room/space spray before or after treatments, to balance, clear and align your field, children, guests or work place.
Ingredients: Pure Water, Jojoba Oil
ESSENTIAL OILS: Vanilla Absolute, Rose Absolute, Bergamot, Cedarwood, Juniperberry, Lavender*, Polysorbate 20, Phenoxyethanol
CRYSTAL & WILDFLOWER ESSENCE: Boji Stone+, Kyanite+, Malacite+, Sydney Rose+, Little Flannel Flower+, Fringed Violet+, Bush Fuchsia+.
*Certified Organic, +Wildcrafted. FOR EXTERNAL USE ONLY
100ml Miron violet glass bottle and Mist spray.