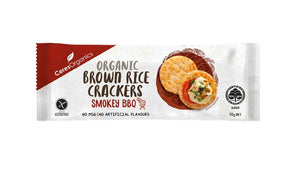 The latest delicious flavour from Ceres Organic - Smokey BBQ! Can't get enough of these little snappy crackers. Light, crispy, sustainably grown. Now in stock!
Allergen Info:
CONTAINS SOY. PROCESSED ON EQUIPMENT THAT HANDLES MILK & SESAME.
Ingredients:
Jasmine Brown Rice* 90.4%, Sunflower Oil*, BBQ Seasoning 4% (Sugar, Dried Tomato, Tapioca*, Salt, Yeast Extract, Fermented Soy Sauce Powder* (Soybean*, Glucose Syrup*, Salt), Citric Acid, Garlic, Onion, Cinnamon, Smoke Powder (Salt, Sugar, Tapioca Starch, Smoke Oil, Tapioca*, Silicon Dioxide), Coconut Oil*), Natural Sea Salt (*Certified Organic).
Nutritional Information
Serving size 12.5 g (9 servings per pack)
|   | Avg per Serving | Avg per 100g |
| --- | --- | --- |
| Energy (kJ) | 201 | 1610 |
| Protein (g) | 0.8 | 6.7 |
| - gluten (ppm) | not detected | not detected |
| Fat, total (g) | 1.0 | 7.6 |
| - saturated (g) | 0.1 | 1.0 |
| - trans (g) | 0 | 0 |
| Carbohydrate (g) | 9.0 | 72.1 |
| - sugars (g) | 0.4 | 3.2 |
| Dietary Fibre (g) | 0.5 | 4.3 |
| Sodium (mg) | 51 | 409 |