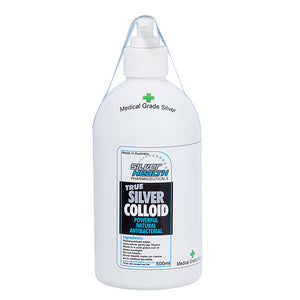 Silver is acknowledged in science as being a powerful antibacterial and antifungal which has been used in the medical field for many years. There are thousands of studies and research papers looking at identifying the 600+ bacteria, fungi and virus' that silver kills.

Silver Colloid can be used as a multipurpose antibacterial and anti-fungal. Used topically it can aid in the healing of cuts, psoriasis, burns, dermatitis, acne, tinea, conjunctivitis, cellulitis & abrasions. Silver Colloid can also be used to fight gastro, food poisoning, UTI's, bladder infections, chest infections & gingivitis. Silver Colloid has not been found to negatively interact with other medication.  
The key benefit to Silver and the reason for its reapplication to many industries is that it does not allow bacteria to develop resistance due to the way bacteria is attacked. 
Antibacterial – Once a surface has had silver colloid applied to it and then has dried, the residual silver that remains on the surface will continue to protect it from the growth of bacteria.