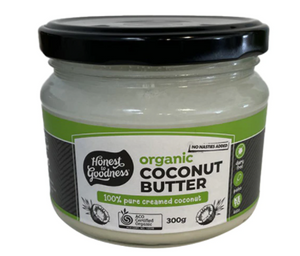 New size, new price!
Organic coconut butter is a nutritious, melt-in-our-mouth spread made from 100% certified organic coconut flesh. Coconut butter is paleo, keto and vegan-friendly with no additives or sweeteners.

Packed full of medium chain triglycerides (MCTs) and dietary fibre, coconut butter is a popular staple for health enthusiasts, foodies and particularly those on paleo, keto and vegan diets. Commonly used in baked goods and raw treats or simply eaten straight from the jar!

No GMO. No added sweeteners, flavours or preservatives.