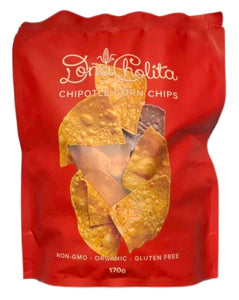 Made right here in the Northern Rivers, Doña Cholita's corn chips are made from organic corn tortillas, made from nutritious, organic, nixtamalized maize flour, before being cut & fried in non-GMO cottonseed oil.
Crispy and delicious and perfect for that mexican fiesta!
• Vegan Friendly      • Gluten Free      • No Preservatives       • Certified organic corn
Doña Cholita proudly use innovative, award winning, single polymer plastic packaging for their totopos - the pack has a special sticker so when finished you can roll, stick and recycle the bag in your home recycle bin. A more sustainable option, better for the planet, better for us all. 

What is Roll 'n' Recycle and how does it work?

The Roll 'N' Recycle program was initially created by Anthony Peyton of PREP Design, with the ultimate goal of processing soft plastic packaging through existing kerbside recycling collection and infrastructure.

All you need to do is roll the flexible packaging into a 6 or 9 shape, secure with the sticker &  place it into your kerbside recycling bin for collection. Rolling the pouch creates the required three dimensional, physical characteristic needed to process soft plastic through our current recycling infrastructure, this stops these materials from entering and contaminating the paper stream in the recycling plant.