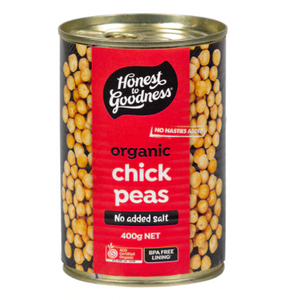 These Organic Tinned Chickpeas are conveniently cooked and ready to eat. A hearty and nutritious source of plant based protein, chickpeas are one of the most versatile legumes - great for hummus, soups, curries, salads, pasta dishes and more.
We love that these chickpeas are pre-soaked prior to cooking for 10 to 20 hours, depending on humidity, crop and general nature of the raw legume.
Plus, use the aquafaba (the liquid surrounding the chickpeas) as an egg substitute in baking or even to make aioli and mayonnaise! Whip up vegan dishes at a pinch.

No GMO, no artificial flavours, preservatives or firming agents and no added salt. Packaged in a BPA free tin.