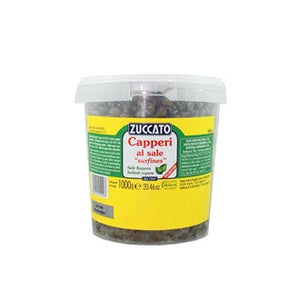 Caper people are serious about capers. And no one is more serious than the people of Pantelleria, a tiny volcanic island between Sicilia and Tunisia. Zuccato salted capers are hand-picked by the islanders the same way they have been for centuries, and cured and packed in Italian sea salt from Trapani. They have a delicate, slightly floral flavour, and a dense, meaty texture.
Rinse the salt off the capers in a strainer when you're ready to use them to whip up traditional Sicilian dishes like caponata and spaghetti con bottarga. Capers instantly add rich Mediterranean flavour to pizzas, salads, grilled fish or meat - or toss them with fresh tomatoes for a delicious bruschetta topping.
No need to keep these capers in the fridge either! 
 Ingredients: Capers, sea salt
Please note these capers are sold in bulk and not packaged as shown in image.