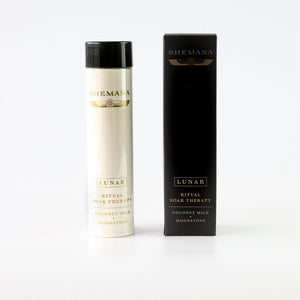 Bath ritual of mineral rich Himalayan & magnesium salts, detoxifying clay, nourishing coconut milk powder and pure essential oils. Activated with Moonstone Crystal powder and Ancient Alchemy Essence that awakens the divine feminine.
LUNAR Crystal Bath Powder is infused with pure high-grade Moonstone Crystal Powder. This activates your bath ritual experience with the energy of the divine feminine, inviting self-love, soothed emotions and blissful surrender.
All Natural. Vegan friendly. Crulety Free.
300ml Recyclable PET jar w' printed box
Ingredients:
Himalayan Salt, Epsom Salt (Magnesium Sulfate), Sodium Bicarbonate*, Coconut Milk Powder (Vegan), Bentonite Clay*, Moonstone Crystal Powder*, ESSENTIAL OILS: Lemon Myrtle Oil, Lavender Oil*, Vanilla Absolute. CRYSTAL ESSENCE: Pearl, Moonstone, Silver. 
*Certified Organic
Directions:
Pour a handful of bath crystals under running water. Stir water to dissolve, as you set your bath ritual intention.