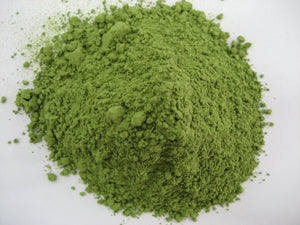 Barley leaf is naturally high in enzymes that have cleansing and anti-inflammatory properties. It is packed with chlorophyll (giving it that dark green colour) which is known to have a powerful purifying effect on the blood and organs, so the body can eliminate toxins, waste products and harmful build-ups that can make it more difficult to recover properly. Over time, such toxins can even lead to illness and disease.
Barley grass powder captures all the natural benefits of the raw product: 5 times more iron than spinach leaves, 7 times more Vitamin C than citrus fruit, and 30 times more vitamin B1 than milk, as well as potent amounts of nutrients and minerals including beta-carotene, potassium, calcium and magnesium.
Barley grass powder has a powerful alkalising effect, thought to be important for people who eat particularly high protein diets. Alkalising greens powder help our digestive systems process food and absorb nutrients, leading to better recovery and sports performance. Barley grass is high in key enzymes that protect cells from free radical damage, helping to boost muscle repair, reduce inflammation and minimise muscle soreness and joint pain.