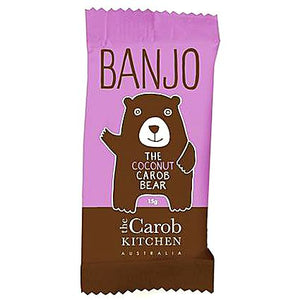 The Carob Kitchen brings you Australia's first Carob Bar range made with Australian grown Carob and real Cacao Butter. Made from Bean to Bar.
The naturally sweet, smooth and creamy taste in our Carob Kitchen Coconut Bar is from the sweetness in our Australian grown Carob beans and naturally sweet coconut flakes. The coconut carob bar is blended to have a mild carob taste using Australian milk solids from 'grass fed' cows and ethically sourced cacao butter.
Kids love them as do we!
Nutritional Information
1 serve equals 10g (8 serves per pack)

 

Per Serving15g

Per 100g

Energy

378kJ

2520kJ

Protein

1.3g

8.7g

Fat, Total

6.9g

46.3g

  - saturated

4.6g

30.6g

Carbohydrates

5.7g

37.8g

    -sugars

4.6g

30.8g

Fibre
1.1g
7.2g

Sodium

20mg

136mg

Gluten

    

Nil
Nil