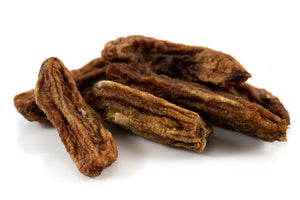 These organic dried bananas are soft, chewy and naturally delicious! Full of fibre, potassium and with a sweet banana flavour, they make a fun snack for the lunchbox or on the go.

These baby or mini bananas are naturally sun-dried and the perfect size for kids.

GMO free. Sulphur and preservative free. No added sugar, sweeteners or oils.

Storage: As this is a preservative-free, raw product, higher temperatures can cause the moisture and the sugar in the fruit to react (starting the fermentation process) so we recommend refrigeration.