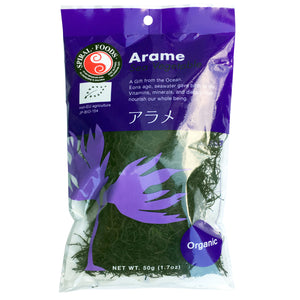 Seaweed provides all 56 minerals and elements you need to survive. No other plant contains all 56. Seaweed also has a surplus of iodine, a hard-to-find element necessary for healthy brain and thyroid function. 
All seaweeds are rich sources of protein, calcium, iodine, magnesium, iron and folate. The kelp varieties also contain high levels of lignans, which are a type of antioxidant. Soak arame and add to salads, stir-frys, curry, krauts or casseroles.
Please note that this product is sold in bulk and not individually packaged as shown in image.