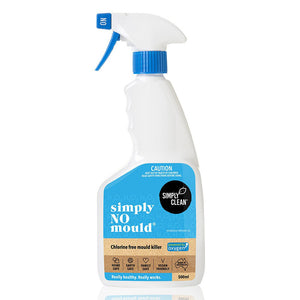 Simply Clean simply NO mould safely treats mould in your home - chlorine free! A must have for every Northern Rivers home!

Mould thrives in most Australian homes through the dampness of winter and the humidity of summer - particularly in our region! Mould inside the home is a health hazard, causing respiratory problems for the young, the elderly and anyone with asthma and other respiratory complaints. It also damages clothes, soft toys and shoes and looks ugly on walls, ceiling and in the grout around tiles.

Simply NO mould is part of Simply Clean's powered-by-oxygen range, utilising the power of the oxygen "O" molecule in hydrogen peroxide (H2O2) to treat mould safely and healthily. The oxygen penetrates the mould and naturally dissolves it away, breaking down to just water and oxygen in the process - so it's totally biodgradable! You can even see it work - just watch for the simplyclean fizz after you spray; a release of pure oxygen as the hydrogen peroxide gets to work on mould and mildew.

Simply NO mould is a unique mould treatment formula for inside the home. No toxins or sensitisers (note: chlorine bleach is both); just Simply Clean's food-safe formula boosted by the power of oxygen.

Use Simply NO mould to treat mould

In the bathroom, in shower cubicles, on tiles and grout, around the sink and bath, including plug-holes and around taps
In the kitchen, around the kitchen sink, on the seals of your fridge and freezer doors
In wardrobes, especially walk-ins, and dark cupboards
Behind doors that are regularly left open
On walls, ceilings and skirting, plaster and wood

Use to prevent regrowth of mould
In dry areas, with a once weekly/monthly spray & wipe
In wet areas, with a daily "after last use" spray. In showers, on shower curtains and around the kitchen sink and weekly around fridge and freezer seals and taps.
Ingredients
Hydrogen peroxide (readily biodegradable mould killer & mild stain remover), citric acid, alcohol (plant derived), sodium C14-16 olefin sulfonate & C9-11 pareth-8 (readily biodegradable surfactants), water.
Please note that this product is sold in 500ml retail sprays as well as in bulk, in 500ml increments for refilling retail packs or your own spray bottles.