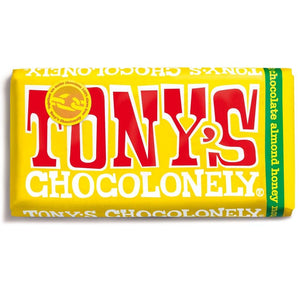 Right now there's modern slavery in cocoa farms in West Africa, as a result of an unevenly divided cocoa chain. Tony's Chocolonely exists to change that.
Their vision is 100% slave-free chocolate...not just Tony's but all chocolate worldwide. It's a super-cool common-sense manifesto - trading directly with farmer co-ops, paying farmers a fair price in return for long-term sales guarantees, and reinvesting in agricultural knowledge and education to improve their productivity and dependency. 
Ingredients: sugar, dry whole milk, cocoa butter, cocoa mass, nougat (cane sugar, wheat syrup, almonds, potato starch, honey, cocoa butter, egg whites), soy lecithin
May contain traces of eggs, peanuts and tree nuts.