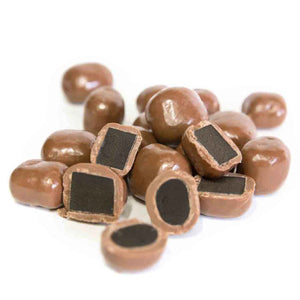 Delicious, chewy, bite-sized logs of certified organic licorice - lusciously coated with the finest quality, organic couverture milk chocolate. Australian-made with no artificial colours, flavours or preservatives. A favourite here at Rider HQ.
Ingredients:
*Licorice (55%) (*Molasses, *Wheat Flour, *Sugar, *Invert Syrup, *Licorice Root Powder, Aniseed, Natural Vegetable Colour), *Milk Chocolate (45%)(*Rapadura Whole Cane Sugar, *Cristallino Cane Sugar, *Cocoa Butter, *Whole Milk Powder, *Cocoa Mass, *Soya Lecithin, *Vanilla Bean Powder), *glazing agent.
*Ingredients certified organic. No use of GMOs.