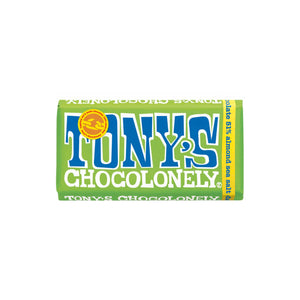 Right now there's modern slavery in cocoa farms in West Africa, as a result of an unevenly divided cocoa chain. Tony's Chocolonely exists to change that.
Their vision is 100% slave-free chocolate...not just Tony's but all chocolate worldwide. It's a super-cool common-sense manifesto - trading directly with farmer co-ops, paying farmers a fair price in return for long-term sales guarantees, and reinvesting in agricultural knowledge and education to improve their productivity and dependency.
This dark chocolate bar has got it all: almonds and sea salt. A golden match! Pass the salt please...
Ingredients: cocoa mass, sugar, 10.00% almonds, cocoa butter, 0.50% sea salt, emulsifier (soya lecithin)
May contain traces of gluten, eggs, peanuts, milk and tree nuts.