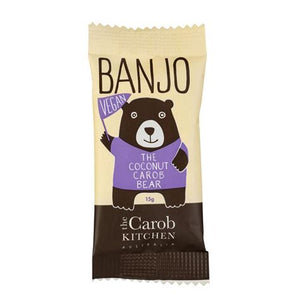 Made from bean to bar, the naturally sweet, smooth and creamy taste in Carob Kitchen's Carob Kitchen Vegan Bar is from the sweetness in Australian grown Carob Beans and naturally sweet toasted coconut flakes.

Kids love them as do we!
Made with natural ingredients: Cocoa butter, organically grown carob powder (31%), almond, corn fibre, natural vanilla, toasted coconut flakes, emulsifier (GMO-free sunflower lecithin).

Contains tree nuts (almonds) and milk. May contain peanut, other tree nuts, soy and sesame.
Nutritional Information
| | | |
| --- | --- | --- |
|   | Average qty. per serving | Average qty. per 100g |
| Energy | 371kJ (XXcal) | 2470kJ (XXcal) |
| Protein | 0.5g | 3.5g |
| Gluten | Nil detected | Nil detected |
| Fat, total | 7.4g | 49.1g |
|  – saturated | 4.7g | 31.1g |
| Carbohydrate | 4.1g | 27.2g |
|  – sugars | 2.2g | 14.9g |
|  – fructose | 0.2g | 1.0g |
|  – glucose | <0.1g | 0.5g |
|  – lactose | 3.3g | 21.9g |
|  – maltose | <0.1g | <0.1g |
|  – sucrose | 1.2g | 8.0g |
| Dietary Fibre | 2.6g | 17.3g |
| Sodium | 12mg | 77mg |
| Salt (UK/EU) | 0.012g | 0.077g |