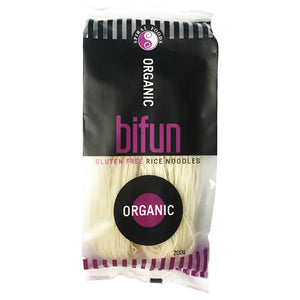 Bifun Rice Noodles have been for centuries, and still are today, a common noodle in Asia.
Bifun rice noodles are thin, translucent and made from 100% steamed rice.
Cooking in just a few minutes, the are great in light summer salads, rice paper rolls, soups and pan-fried noodle dishes or stir-fries.  Delicious seasoned with ponzu or soy sauce, a dash of brown rice vinegar, mirin and toasted sesame oil.
Ingredients:  100% organic long grain white rice.