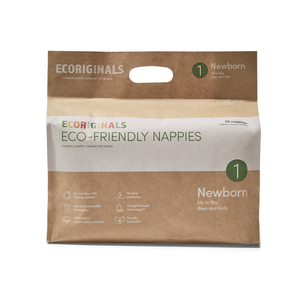 After years of rigorous research and development, Ecoriginals have brought to market a disposable eco nappy that ticks all the boxes. Super absorbent, 90% compostable and gentle on precious little bots. They use a unique Plantcell Technology™ that makes the Ecoriginals absorbent core the best. It holds over 900ml of liquid, which is drawn away from the skin, so it stays dry and rash free. And these little beauties are packaged in a stylish paper bag which you can pop in the compost!
More than 90% biodegradable, premium plant-based nappies
Breathable, natural layers eliminate nappy rash
Unique Plantcell Technology™ for unbeatable absorbency
12+ hours leak free, and dry-to-the-touch
100% cotton leg cuffs and 3D leak guard to prevent leakage and side spill
No phthalates. No fragrances. No dioxins. No bleach. No lotions.
Non-toxic and nothing harmful or irritating to delicate skin
Home compostable paper packaging printed with foodsafe inks
Made with FSC Certified wood pulp, pure cotton layers, tissue paper, non-GMO corn starch for softness
Derma-test. OEKO-TEX Confidence in Textiles. FSC Certified.
Designed by local company Ecoriginals and manufactured in New Zealand using renewable energy. Ecoriginals is a plastic & carbon neutral company. For every order they plant 1 tree, collect 25 plastic bottles and offset 10kg of carbon.
Ingredients:
FSC Wood Pulp:

 

Sustainably sourced wood pulp is a vital component of our plant-based absorbent core, which draws moisture into a soft, breathable centre.
Pure Cotton:

 

Unbleached pure cotton layers deliver flexibility, and strength, providing the structure and shape of our premium nappies. Our cotton waistband ensures a comfortable fit, and soft leg cuff ensure a comfortable fit for little legs.
Tissue Paper:

 

Layers of tissue paper wrap our key absorbent components to keep them together in a natural shell, and lock wetness away to maintain up to 12-hours of dryness.
Corn Starch:

 

Starch-based films are our all-natural, water-resistant alternative to plastics or "blended" layers. 100% compostable and gentle on delicate skin.
Super absorbent polymers: Our high-quality absorbent polymers are another powerhouse in the absorbency of our non-toxic nappies. And as an added benefit they are a great compost additive.
Spandex:

 

a small amount of lycra is incorporated in our design. Ensuring a perfect fit to eliminate leaks and spills.
Polypropylene:

 

has been minimised whilst we still need it for strength and flexibility. Delivering a dependable, eco nappy.