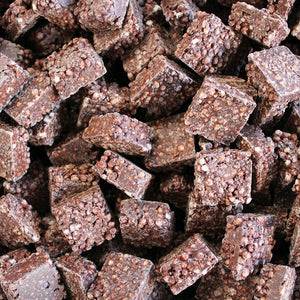 If you haven't tried these delicious little crunchy nutrition-filled chocolate snacks, you're missing out! Made from organic superfoods such as chia seeds, quinoa, maca, and coated with rich 60% dark chocolate.
Did you know that maca is rich in antioxidants, vitamins and minerals? Supporting your energy and stamina, these power bites are a great snack to supercharge your day!
Completely vegan, allergen-free and gluten-free, they make a healthy chocolate snack without the guilt. Grab a handful of these more-ish squares and see if you can stop crunching! 
Product of Peru.
Ingredients: Organic Cacao Liquor, Organic Cacao Butter, Organic Cane Sugar, Organic Popped Quinoa, Organic Chia Seeds, Organic Maca Powder.